Base & Area
Whether you arrive by plane or by car – due to the highway and the airport (25 km away from Split – 100 km away from Zadar), the Marina Kremik is easy to reach.
Where are we
Contact centre
Contact centre

Austria:
Booking Wien
Tel: + 43/ 1 / 799 23 45
Fax: +43/ 1 / 799 23 45 - 417

Croatia:
Marina Kremik Primošten
Tel: + 385 / 22 / 555 555

Germany
+49 (0) 7531 892 624 52

Switzerland
+41 (0) 71 511 37 97

Working hours

Office hours Wien:
Tue - Thu 08:30 - 17:00

Office hours Primosten:
Mon - Sun 08:00 - 17:00

Skype
Earlly bird discount
Early bird discount 2018!

More Info!
From now on, you can conclude your charter, travel cancellation and skipper insurance by clicking the following link!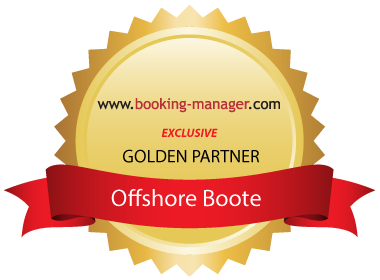 The company
The company OFFSHORE-BOOTE became Croatia's biggest motor boat charter company within several years.
Since 1997 our charter base is the Marina Kremik in Primošten, a strategically very convenient station.
As a charter company we deal with a valuable commodity - your vacation.
Your dreams, desires and needs - we try to fulfil them with our know-how. Our capital, on one hand, is our fleet, the largest that can be found on the Adriatic and on the other hand, our experience. In more than 20 years in the market, we became the absolute market leader and strived consistently to satisfy of our customers.
We have the ideal charter yacht for you. Why do we think we may claim this? Because we have a variety of yachts to offer like no one else. The ideal charter yacht is the one, which perfectly suits your needs and these needs may be very different. What is important for you? Space, speed, appearance? Or a combination of these factors? With us you will find what you are looking for. We have traditional, roomy trawlers or half gliders, but our programme also includes cool gliders that can handle rough waters. We offer new yachts as well as models that are somewhat older and of course, much more favourable. But all yachts have one thing in common: We put the greatest value on excellent service of our yachts.
We guarantee not only a problem takeover of the yacht - we will support you throughout your stay on board. It is certainly helpful that almost all of our employees speak German - you will get to know and appreciate our motto "Holiday with friends".
If you don't have a license, you can obtain the official Croatian boat skipper certificate with us. After several days of intensive hands-on training with one of our skippers you can soon put out to sea.