Base & Area
Whether you arrive by plane or by car – due to the highway and the airport (25 km away from Split – 100 km away from Zadar), the Marina Kremik is easy to reach.
Special offers
Your search did not produce any results
Where are we
Contact centre
Contact centre

Austria:
Booking Wien
Tel: + 43/ 1 / 799 23 45
Fax: +43/ 1 / 799 23 45 - 417

Croatia:
Marina Kremik Primošten
Tel: + 385 / 22 / 555 555

Germany
+49 (0) 7531 892 624 52

Switzerland
+41 (0) 71 511 37 97

Working hours

Office hours Wien:
Tue - Thu 08:30 - 17:00

Office hours Primosten:
Mon - Sun 08:00 - 17:00

Skype
Perfect Service
We are available around the clock; our German-speaking staff at the base will help you any time with any questions about the boat and about trip planning, mooring and restaurant reservations. And should you ever have problems with the yacht while on tour, you can contact our service people quickly.
From now on, you can conclude your charter, travel cancellation and skipper insurance by clicking the following link!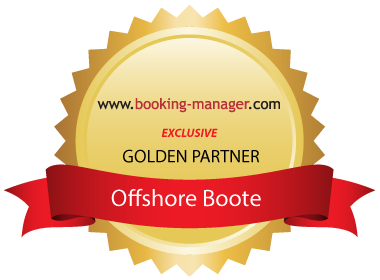 Yachts up to 40% more Favourable
Here is a price comparison:
Offshore Boote up to 40% more Favourable!
A vacation on a motor yacht in Croatia is an amazing experience which we want everybody to experience - even if the vacation savings are not so bulging. For price-conscious customers, we offer not only our new yachts, but also our older models which don't lag behind in terms of quality and comfort compared to their "younger sisters". These models are up to 40% cheaper than similar yachts of other providers and enjoy great popularity among many of our regular guests.
Don't worry. An older yacht - unlike an older car - with correspondingly good care and regular maintenance or overhaul is at a top level for many years. 20 service employees provide with great care for properly functioning yachts, best equipment and a high quality of life on board. Your advantage: a significantly lower price!
Our experience and the feedback of our guests tell us that the quality of a yacht vacation does not depend on the age of the yacht. A beautiful week on a yacht, one that you will remember a lifetime, includes especially good care of by the charter company, optimum weather, a gorgeous area, excellent food and drinks, a pleasant crew, enough space on the booked boat - and an affordable price.